About
Check Out and Wander Around:
Photo Albums:
Other Places to Wander:
Wanna Talk While Wandering Around?
cmanuelofficial@gmail.com
if you want some of what I can do for you. I'm available for photoshoots, events, and web design. You may also click on my somewheres if you prefer and talk to me there.
For Those Who Wander:
Beginning 03/30/13 - 23:30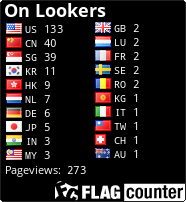 Wanderers
Disclaimer:
All material here in this blog is mine unless stated otherwise.